Late Night with Leonard Bernstein
Hosted by Jamie Bernstein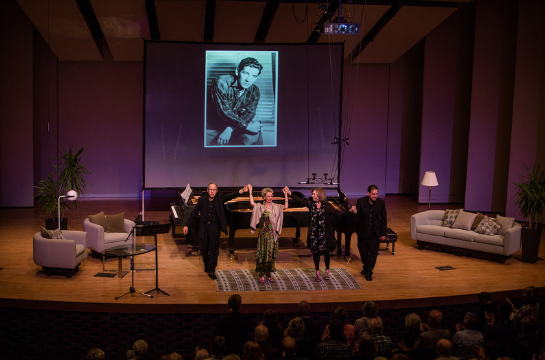 A well-known insomniac for whom night was a time for creativity and friendship, deep introspection and revelry, the iconic Leonard Bernstein loved to work and entertain at all hours. Late Night with Leonard Bernstein – hosted by his daughter Jamie and featuring acclaimed soprano Amy Burton and noted pianists John Musto and Michael Boriskin – is an affectionate multi-media cabaret-style portrait of the personal side of this charismatic, singularly public figure. This vibrant performance features Bernstein's most intimate (and favorite) music, including works by Aaron Copland, Zez Confrey, Noël Coward, Franz Schubert, and Edvard Grieg, along with personal stories, and even audio and film clips of the Maestro himself.
Tickets
Single Tickets

Single tickets go on sale August 1, 2022.

Single ticket prices range from $25 - $100.

Student Rush tickets are $15 and can be purchased on the day of the performance only. Must present a valid student ID. Limit of two tickets per ID.

Discounts are available for groups of 10 or more. Contact the Box Office at (405) 744-9999 for more information.

Subscription Information

Save up to 15% on tickets when you become a season subscriber. Click above for more information. 

Become a McKnight Center Insider

Click the button above to join our email list and get updates and ticket offers delivered to your inbox.
Event Details
Date | Sunday, March 5, 2023
Time | 3:00 p.m.
Venue | Performance Hall
Plaza Simulcast
The live concert will be simulcast to the outdoor plaza. Bring your blanket or chair and enjoy viewing the concert for free on the 32-foot LED wall and advanced sound system.
About the Artists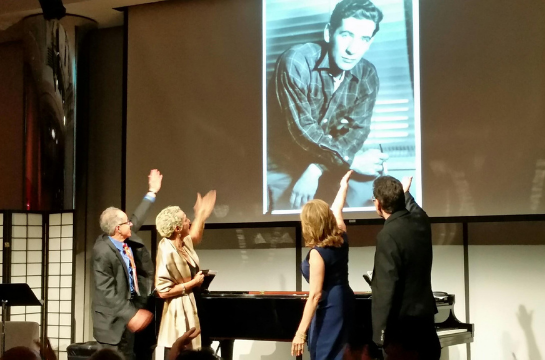 Jamie Bernstein, Host
| Jamie Bernstein is an author, narrator, and filmmaker who has transformed a lifetime of loving music into a career of sharing her knowledge and excitement with others. Daughter of composer-conductor Leonard Bernstein, she inherited her father's passion for sharing and teaching and has devised several ways of communicating her own excitement about classical music. In addition to "The Bernstein Beat," a family concert about her father modeled after his own groundbreaking Young People's Concerts, Jamie has also written and narrated concerts for audiences of all ages about Mozart, Aaron Copland, and Stravinsky, among others. Jamie's memoir,
Famous Father Girl
, published by HarperCollins, details her youth growing up in an atmosphere bursting with music, theatre and literature. For even more information about Jamie Bernstein, visit her website
here.
Amy Burton, Soprano
| With a voice the
New York Times
has called, "luminous" and "lustrous," versatile soprano Amy Burton has sung with the Metropolitan Opera, New York City Opera, at the White House, and with major opera companies and orchestras throughout the US, Europe, UK, Japan and Israel, as well as on recital and cabaret stages from New York to Barcelona. A frequent interpreter of 20th and 21st-Century music, she has premiered pieces by John Musto, Paul Moravec, Lee Hoiby, John Harbison, Richard Festinger, and Richard Danielpour, to name a few. Also specializing in French vocal music of the 1920s and 30s, Ms. Burton has performed both
mélodies
and
chansons populaires
throughout the US and Europe, and recorded a critically acclaimed CD with conductor Yves Abel,
Souvenir de Printemps
.
Michael Boriskin, Piano
| Best known as an internationally-active pianist and prolific recording artist, Michael Boriskin has been extensively involved in every aspect of the concert music world, and has been hailed by
American Record Guide
as "one of the most skilled and versatile musical figures of his generation." A native New Yorker, he has performed throughout the United States and in over 30 countries. Mr. Boriskin has worked with virtually every major American composer of the past 30 years. He is a frequent guest of major educational institutions for master classes, residencies, workshops, and lectures. Mr. Boriskin was named Artistic Director of Copland House in 1998, and his title was expanded to include Executive Director in 2003.
John Musto, Piano
| Composer and pianist John Musto is that all too rare exemplar, the classical composer whose work is both critically acclaimed and widely performed, who has also distinguished himself as an instrumental soloist and chamber musician. His activities encompass virtually every genre: orchestral and operatic, solo, chamber and vocal music, concerti, and music for film and television. His music embraces many strains of contemporary American concert music, enriched by sophisticated inspirations from jazz, ragtime and the blues.