The McKnight Center for the Performing Arts celebrates one-year anniversary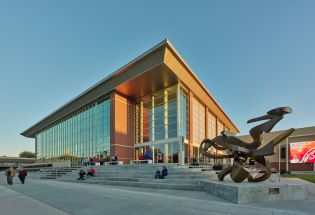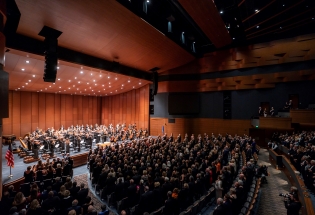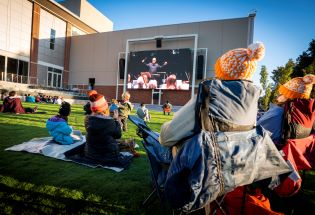 Photos from left to right: The McKnight Center for the Performing Arts (courtesy Beck Design), The New York Philharmonic performs a sold-out concert in the Performance Hall (Chris Lee), guests watch a live performance from the outdoor plaza (Chris Lee).
STILLWATER – (October 6, 2020) –
It has been one year since The McKnight Center for the Performing Arts, a cutting-edge facility on Oklahoma State University's campus, raised the curtain on world-class performances in Stillwater, Oklahoma.
The 65,000 square-foot space features three state-of-the-art performance venues: an 1,100-seat opera house that is capable of hosting full size orchestras, touring Broadway productions, movies and more; a 217-seat recital hall sound-engineered for small ensembles; and an outdoor plaza equipped with a 32-foot LED wall and surround-sound speaker system.
All three spaces are designed to create a unique experience for audience members that optimizes sound quality and provides clear sightlines. The intimacy of each venue guarantees that no seat is more than 100 feet from the stage, allowing ticket holders to experience their favorite international performing artists in an up close and personal way like they've never seen before.
The McKnight Center is the result of a unified vision to create a cultural epicenter in Stillwater. In 2016, Oklahoma State University alums Billie and Ross McKnight gave $25 million to establish an endowment which would support exceptional programming that would benefit not only the immediate community, but also the entire region.
"The McKnight Center's inaugural year was a dream come true," Billie and Ross McKnight said. "We enjoyed watching the talent brought to Stillwater and have loved seeing the international arts community embrace Oklahoma State University. People around the world want to come and perform at The McKnight Center, and we cannot wait to see what the future will hold."
"The McKnight's gift and vision brought to life our dreams for the performing arts at OSU and in our region," OSU President Burns Hargis said. "They inspired many others to join a transformation that is delivering incredible learning opportunities for our students and world-class performances for our community. The opening of the magnificent McKnight Center a year ago was truly a night to remember."
Last year's grand opening weekend, held from October 11-14, 2019, brought more than 5,000 people to Stillwater to witness the first concerts in the new venue, featuring the New York Philharmonic with Broadway star and Tony Award-winner Kelli O'Hara.
The festivities included sold out performances (which were also simulcast to the plaza where audiences watched free of charge), a residency for OSU's Greenwood School of Music students comprised of masterclasses with the Philharmonic's principal musicians, and a Young People's Concert that provided learning opportunities for first and second graders in the Stillwater Public School System.
"Our opening celebration was a true embodiment of our mission," Marilynn and Carl Thomas Executive Director Mark Blakeman said. "This special milestone incorporated artistic excellence and impactful learning opportunities that go beyond the traditional classroom. We're committed to transforming our community through shared creative experiences, and our very first performances demonstrated to our guests the level of quality they can expect from The McKnight Center."
The McKnight Center saw sold out crowds for most performances in its first season. Notable performances included the Preservation Hall Jazz Band from New Orleans, the London-based Academy of St. Martin in the Fields with Joshua Bell, and An American in Paris. Additionally, the center's Chamber Music Festival featured Anne-Marie McDermott, Edgar Meyer, Joshua Roman and the St. Lawrence String Quartet.
All events included educational components through masterclasses, open rehearsals, Q&A sessions, or special performances. These opportunities were provided free of charge for students in the Stillwater Public School district and OSU students.
When the COVID-19 pandemic caused closures throughout Oklahoma, the center adapted by developing digital content including livestreamed conversations with artists from the 2020-2021 Season lineup, which provided viewers to connect one-on-one with the performers. The center also provided online educational content through its "Center Stage" video series, which feature short performances, instructions on how to make simple instruments at home along with tips on how to make music.
The McKnight Center has re-opened for live events in time for its one-year anniversary, implementing health and safety protocols such as socially distanced seating and enhanced sanitation throughout the building. With some exceptions, the 2020-2021 Season has been postponed to January 2021, but the center will host more than 60 concerts and private events this fall.
The 2020-2021 Season features a roster of artists that is just as impressive as its first. Performances include Canadian Brass, Itzhak Perlman, and Pink Martini, as well as Broadway blockbusters like STOMP and South Pacific. To view the full season two lineup and for more information about the McKnight Center, visit
McKnightCenter.org
.
The McKnight Center: By the Numbers
• 29,819 people attended events at The McKnight Center throughout its first year
• 127 events were held, including season performances, Young People's Concerts, masterclasses, and concerts presented by OSU's Greenwood School of Music
• 3,294 students in Stillwater Public Schools participated in 4 special arts events designed for children
About The McKnight Center for the Performing Arts
The McKnight Center for the Performing Arts at Oklahoma State University is a world-class epicenter for the arts dedicated to attracting celebrated national and international programs with notable performing arts productions and artists. The McKnight Center is an expression of Oklahoma State University's commitment to the arts to inspire and transform lives through artistic excellence, creative experiences and impactful learning opportunities. To learn more, visit
McKnightCenter.org
.
Box Office: (405) 744-9999 |
info@mcknightcenter.org
MEDIA CONTACT
Jessica Novak
405-385-5167
jnovak@mcknightcenter.org