Rudolph the Red-Nosed Reindeer:
The Musical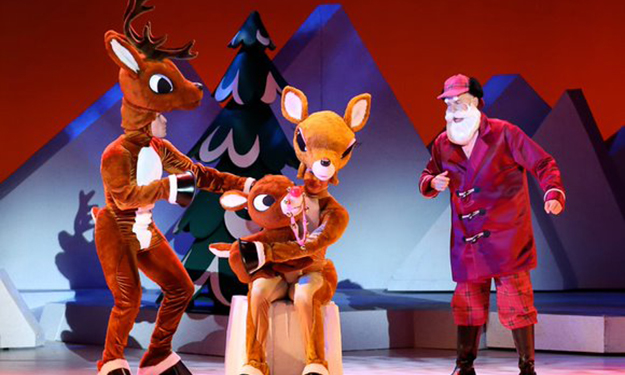 Come see all your favorite characters from the 1964 special including Santa and Mrs. Claus, Hermey the Elf, the Abominable Snow Monster, Clarice, Yukon Cornelius and, of course, Rudolph, as they come to heartfelt life to help save Christmas. It's a family adventure that teaches us that what makes you different can be what makes you special. Don't miss this "utterly charming, top-notch" (Orlando Sentinel) holiday musical that sings to the lovable misfit in all of us.
Tickets
Tickets for this performance range from $29-$99.
Buy Tickets
Event Details
Date | December 12, 2019
Time | 7:30 p.m.
Venue | Performance Hall
On the Program
The beloved TV classic
Rudolph the Red-Nosed Reindeer
soars off the screen.
10 "Fun" Facts about Rudolph the Red-Nosed Reindeer
While there are many reindeer in the North Pole, there is only 1 red-nosed reindeer, Rudolph. Sam the Snowman's pocket watch never changes time throughout the show. It always reads 2 o'clock. Yukon Cornelius discovers the peppermint mine on his third prospecting attempt. All of the human characters in Rudolph the Red-Nosed Reindeer have 4 fingers. It seems 4 was the magic number. Yukon Cornelius's sled is pulled by a Poodle, a Cocker Spaniel, a Saint Bernard, a Dachshund and a Collie. In 2008, Rudolph the Red-Nosed Reindeer was restored for Blu-ray. Enhancements were made to both the audio and picture, including the removal of scratches and artifacting. Rudolph the Red-Nosed Reindeer features 7 original songs that were written for the special. The Santa puppet stood 8 inches tall. Santa's sleigh is pulled by 7 reindeer at the end of the special. According to the song, there are usually 9 reindeer: Dasher, Dancer, Prancer, Vixen, Comet, Cupid, Donner, Blitzen, Rudolph. In 2006, the original Rudolph and Santa figures were featured in an episode of Antiques Roadshow. Pre-renovation, they were valued at $8,000-$10,000.